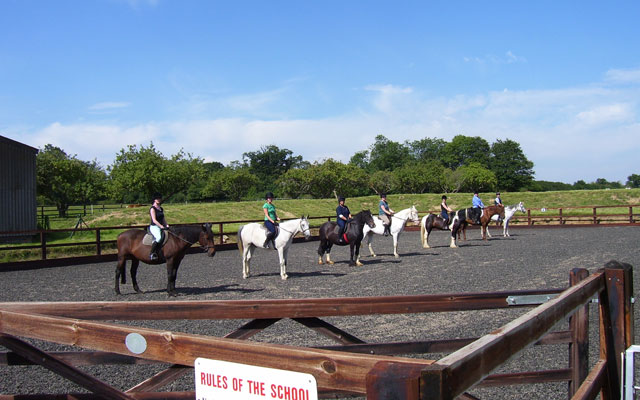 'Non-Member' Lesson prices (valid from 1st June 2018)
Lesson
Adult
*Child
1/2 hour beginner session
£28
£25
Private lesson (30 mins.)
£34
N/A
Private lesson (45 mins.)
£45
£45
Private lesson (Shared)
£39
£36
1 hour group
£32
£28
1 hour hack
£38
£38
Toddle (short ride for small children)
-
£20
Hat hire
£1
£1
*Children must be at least 5 years of age for lessons, and at least 12 years old to hack out.
Notes:
The riding school is closed on Mondays and Thursdays.
Lessons cancelled with less than 24 hours notice will be subject to a £5 cancellation charge.
BMEC club members receive at discount of £1 per lesson.
Block bookings also available. Buy 5 and get the 6th one free.
Longer hacks are available to BMEC club members by arrangement.
All riders are required to fill in a registration form before riding.
We can offer Stable Management sessions to those working for tests of exams. Please contact us with your requirements.
---
Benefits of Bardwell Equestrian Club
Quarterly newsletter letting you know what is happening at the BMEC. Tests,shows,pony days, results etc.
Priority booking in lessons. Only club members will be permitted to enter tests,shows and pony days.
Discounted lessons/hacking for club members.Only club members will be able to purchase block cards.
Buy 5 lessons/hacks in advance and get the 6th free (Cards must be used within 3 months)
For new members (and renewal for existing members) the cost of a years membership will be £10 for children and £15 for adults.
To obtain your club membership, you must fill in a registration form in the office.
Please
contact
us if you have any questions. We hope to see you soon.