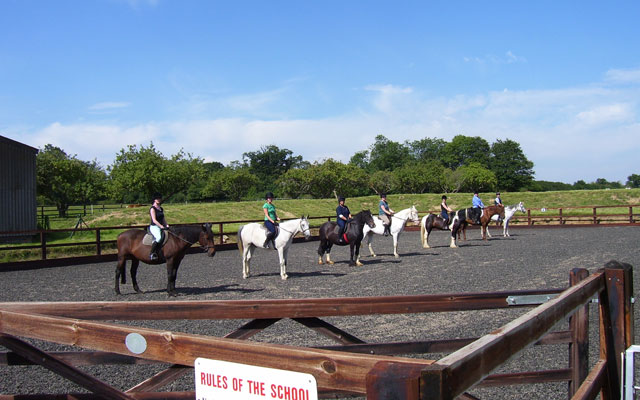 'Non-Member' Lesson prices (valid from 1st July 2020)
Lesson
Adult
*Child
1/2 hour beginner/improvers group session (Max. 3 riders)
£31
£28
1 hour group session (Max. 6 riders)*
£35
£31
1 hour experienced group session (Max. 3 riders)
£42
-
1/2 hour Assessment lesson (1 rider)
£37
£34
1 hour hack
£41
£41
40 min. Lunge lesson (includes the warm up of the horse for lungeing)
£40
£40
Toddle (short ride for small children)
-
£23
Hat hire
£1
£1
*Children must be at least 5 years of age for lessons, and at least 11 years old to hack out.
Booking Terms & Conditions:
First time bookings must be paid for in advance.
Riders must be able to able to walk, trot and canter to participate in 1 hour group lessons.
Group & half hour lessons cancelled with less than 24 hours notice will be subject to a £5 cancellation charge.
Private & Semi-Private lessons cancelled with less than 24 hours notice will be subject to a £10 cancellation charge.
Notes:
The riding school is closed on Mondays and Thursdays.
BMEC club members receive at discount of £1 per lesson.
Riders must be a BMEC member to work for ABRS rosette awards and tests, and to join in on pony days and shows.
We offer gift vouchers for any number of lessons, from a one off taster to a longer course.
Longer hacks are available to BMEC club members by arrangement.
All riders are required to fill in a registration form before riding.
We can offer Stable Management sessions to those working for tests of exams. Please contact us with your requirements.
---
Benefits of Bardwell Equestrian Club
Priority booking in lessons. Only club members will be permitted to enter tests,shows and pony days.
Members also receive a loyalty card and receive a stamp on their card each week. Once 10 stamps have been collected they can be exchanged for a free lesson.
For new members (and renewal for existing members) the cost of a years membership will be £10 for children and £15 for adults.
To obtain your club membership, you must fill in a registration form in the office.
Please
contact
us if you have any questions. We hope to see you soon.